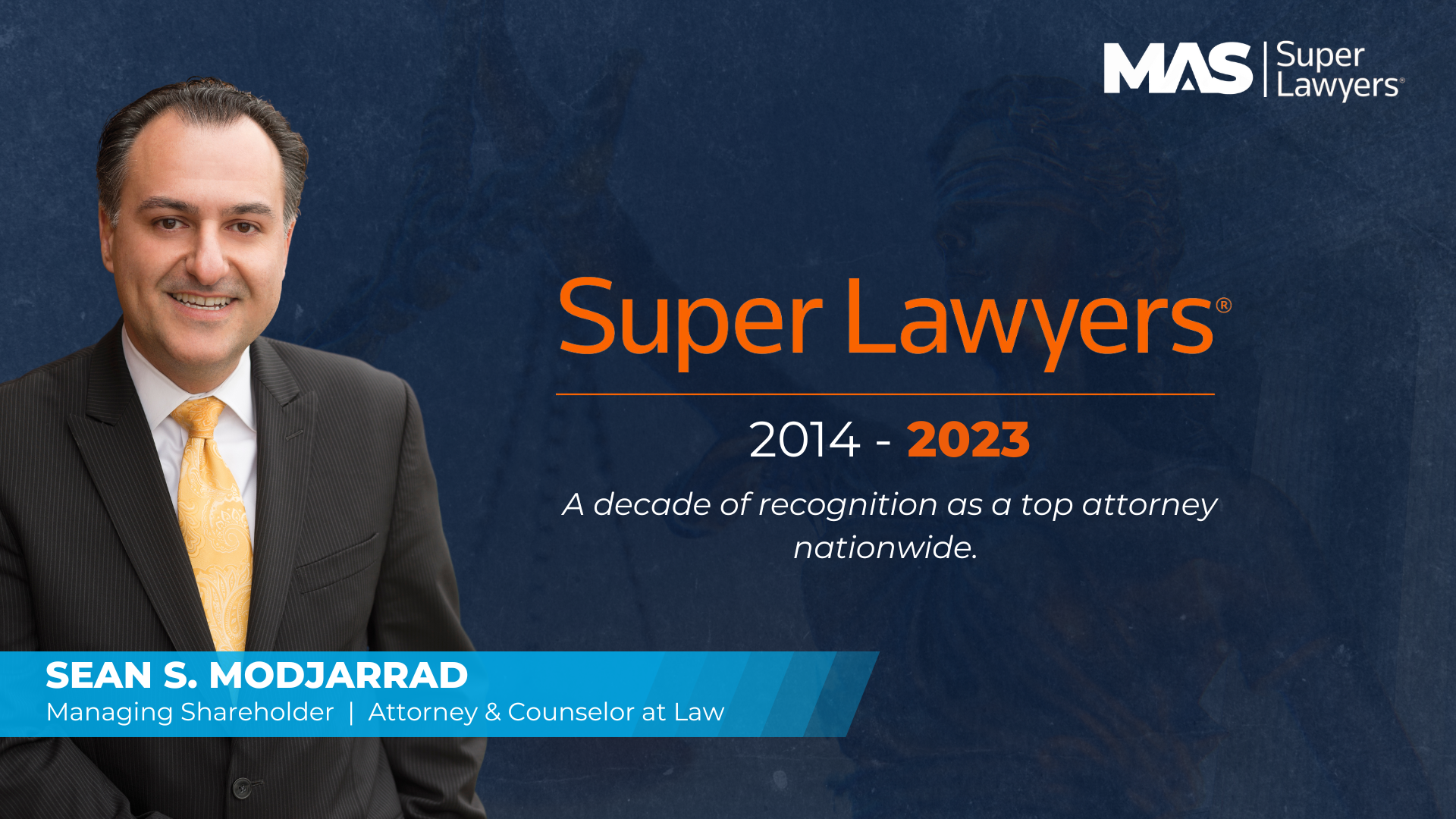 When it comes to legal excellence and professional achievement, few accolades hold as much prestige as being recognized by Super Lawyers. Founded in 1991, Super Lawyers has been honoring top attorneys nationwide for over three decades, making it a trusted resource for those seeking legal counsel. Their rigorous selection process, which combines peer nominations, independent research, and evaluations, ensures that only the most outstanding legal professionals make the cut. Each year, the organization highlights a select few attorneys who have demonstrated exceptional expertise, and this year, we're thrilled to announce that Sean Modjarrad has earned a coveted spot among the Super Lawyers of 2023.
A Legal Luminary, a Commitment to Excellence
Sean Modjarrad is the Managing Shareholder and founder of MAS Law in Dallas, Texas. His legal practice primarily focuses on Personal Injury and Civil/Commercial Litigation. What sets Sean apart is not just his impressive legal credentials but also his notable contributions to the field. His representation in several prominent cases has played a pivotal role in reinterpreting established laws.
Sean's educational journey is a testament to his unwavering dedication to the law. He earned his Bachelor of Science in Accounting from the University of North Texas and then continued his academic pursuits at Samford University. Remarkably, he achieved his Juris Doctor from Cumberland School of Law and simultaneously obtained two master's degrees from the Brock School of Business—a Master of Accountancy and a Master of Business Administration, all within an impressive three-year period.
Upon passing the Texas Bar, Sean founded his own law practice, originally known as Modjarrad & Associates, Professional Corporation, in 2000. Over the years, he successfully expanded his practice, welcoming Associate Nazeh Abusaad in 2002, who later became a shareholder in 2003. Similarly, Mohammad Said joined the firm in 2006 and, due to his remarkable contributions, became a shareholder in 2012. It was during this period that Sean decided to rebrand the firm, and it has since operated under the name MAS Law.
This year, as Sean Modjarrad joins the ranks of Super Lawyers for the 10th time, we celebrate his exceptional legal acumen and applaud his unwavering commitment to providing top-tier legal services. A decade of excellence speaks to his dedication, professionalism, and the respect he has garnered from his peers in the legal world.