Richardson Car Accident Lawyer
No Fee Unless We Win Your Auto Accident Injury Case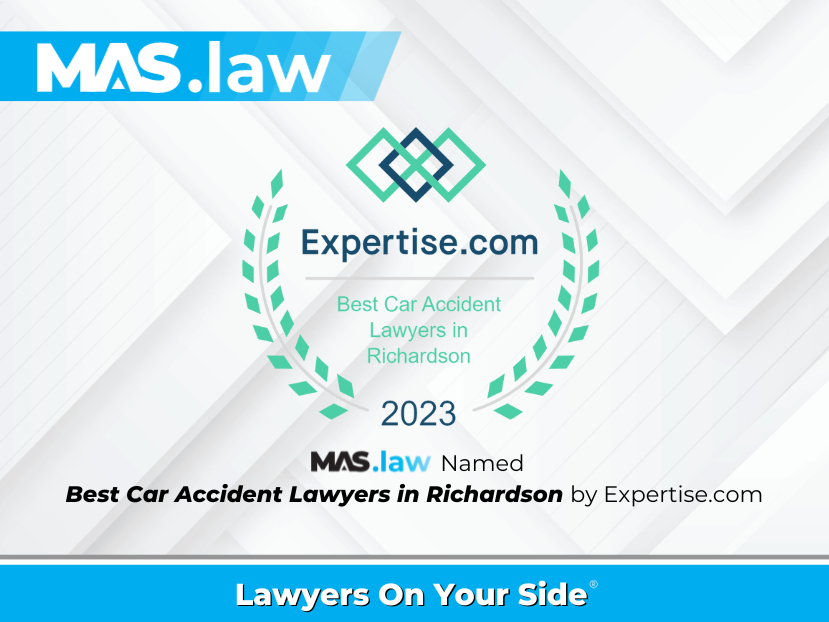 If you've been injured due to another driver's negligence in Richardson, Texas, trust MAS Law to help you fight for the full and fair compensation you deserve. A car accident can drastically alter one's life. From minor cuts and bruises to severe injuries like traumatic brain injuries, lost limbs, and paralysis, the physical and financial toll can be overwhelming. Don't hesitate to reach out to MAS Law for your free injury consultation. Our team is here 24/7 to answer your call, so dial (972) 460-9339 today.
Why Choose Our Award-Winning Richardson Car Accident Lawyers?
Experienced Team: Our Richardson injury attorneys have a proven track record. We are well-versed in personal injury law and will work tirelessly to build a strong case on your behalf. We will guide you through every step of your case, from initial consultations to negotiations and, if necessary, litigation.
Maximizing Compensation: We are committed to securing the maximum compensation possible for your injuries, medical expenses, lost wages, and pain and suffering.
Ensuring Proper Medical Care: We prioritize your physical well-being by helping you access the necessary medical treatment and care you need to recover.
Free Consultations: Get started on your case today by scheduling a free injury consultation. We are available 24/7.
What Should I Do After a Car Accident?
Check for Injuries: If you're in a car accident, never leave the scene, regardless of the damage. Your top priority is safety. Verify if anyone is hurt and call 911 for help if there are injuries.
Ensure Safety and Clear the Road: If no one is injured, move the vehicles off the road to prevent further accidents and traffic disruption. Keep hazard lights on. In severe collisions or if there are injuries, leave the vehicles in place. Exercise caution when exiting your car, especially on highways or busy streets, as shock can affect your judgment.
Call the Police: It's advisable to contact the police after a car accident. They can help establish fault and document the incident. Note that for minor collisions with no injuries, some police departments may not respond. If they do, record the officer's details, ensure a collision report is filed, and obtain the report number.
Gather Evidence: Use your phone to photograph vehicle damage. Exchange:

Names and addresses
Insurance info
Driver's license, plate, VIN
Vehicle details and collision location
Avoid sharing personal data or fault discussions. Document impacts, date, time, skid marks, and directions. Sketch a scene diagram and record key details.
Tow If Necessary: If your vehicle is seriously damaged, consider calling a tow truck. Insurance policies often include roadside assistance, and the police or car manufacturers might provide help too.
Seek Medical Attention: After a car accident, you might feel fine initially, but injuries can emerge later. Even minor impacts can cause head or spinal injuries. If you experience pain or unusual symptoms, see a doctor. It's common to feel okay immediately but remember that injuries can show up days later.
Contact a personal injury attorney in Richardson, TX: At MAS Law, we passionately represent victims of motor vehicle accidents, striving for fair compensation for their injuries and hardships caused by someone else's negligence. We proudly advocate for our clients against the tactics employed by the at-fault party and their insurance company. We don't yield to challenges or attempts to diminish the value of our clients' claims. Our firm is renowned for pursuing cases to the fullest extent, ensuring our injured clients receive the compensation they deserve.
How Long Do You Have to File a Car Accident Claim in Texas?
The statute of limitations in Texas to file a car accident claim is the same as other personal injury cases: two years. This means that you have two years from the date of your injury to file a claim or you will most likely lose your right to file and recover compensation.
There are exceptions that can lengthen or extend this two-year rule, so it is best to contact an attorney right away to begin discussing the specifics of your case.
Do I Need to File a Police Report After an Accident?
According to the Texas Transportation Code section 550.026, drivers must report an accident to law enforcement if it meets certain criteria. This criterion includes if the accident results in:
Injury or death of an individual.
Damage to a vehicle that inhibits the driver from driving safely away from the scene.
Accidents that occur in a municipality should be reported to the local police while accidents that take place outside a municipality should be reported to the local sheriff.
What is the Liability Law for Car Accidents in Texas?
Texas is a "fault" state when it comes to car accident liability. This means that after an accident the at-fault party is the one responsible for any resulting damages, although their insurance company is usually the one who actually pays the bill. This system is opposite some state's "no-fault" system which requires all drivers to carry "personal injury protection" insurance.
This insurance is specifically for the event of a personal injury. In these states, it is very difficult to hold the responsible party accountable for their actions. In Texas, anyone injured in a car accident has the option of filing a personal injury claim.
Oftentimes, however, an accident is caused by more than one party. In these cases, Texas follows a "comparative fault" rule. This means that an injured party who is partially responsible for an accident can file a claim as long as the other party is more at fault than they are. In a comparative fault claim the percentage of responsibility a defendant is found to bear will also be deducted from their overall compensation awarded to them.
For example, if you are found to be 20% at fault for the accident that caused your injuries your total compensation awarded to you by the court will also be reduced by 20%. Car accident law in Texas can be confusing and complex which is why our team of attorneys are here to guide you through your claim while fighting for the maximum amount of compensation you deserve. Learn more about how we can help you by contacting us today.
What Happens if the Other Driver was Uninsured?
Uninsured motorist coverage (UM) is a type of first-party insurance that safeguards you against the financial repercussions resulting from a motor vehicle collision when the at-fault third party lacks their own insurance coverage.
There exist two distinct categories of UM coverage:
Uninsured Motorist Bodily Injury (UMBI): UMBI is designed to cover expenses like medical bills, lost wages, property damage, and non-specific damages such as pain and suffering.
Uninsured Motorist Property Damage (UMPD): UMPD comes into play when your motor vehicle or personal property sustains damage in an accident involving an uninsured third party, offering compensation for the associated costs.
Should you find yourself injured in a motor vehicle accident, our team of attorneys at MAS Law is here to help. We will work diligently to determine the different insurance options at your disposal to cover your losses. Moreover, we'll provide a clear explanation of how these diverse coverages can be utilized to ensure you receive full compensation for your injuries and damages.
What are Some Common Car Accident Injuries?
Car accidents can result in a wide range of injuries, some of which may not become evident immediately. These injuries can significantly impact your health and quality of life. It's essential to be aware of the following common car accident injuries:
Whiplash: Sudden jerking movements in a collision can cause neck and spinal injuries, leading to pain and restricted mobility.
Head Injuries: Even minor accidents can result in head trauma, ranging from concussions to more severe traumatic brain injuries (TBIs).
Back and Spinal Cord Injuries: The force of impact can damage the back and spinal cord, potentially causing long-term disabilities.
Broken Bones: Fractures, especially in limbs, are common car accident injuries and may require surgery and extensive rehabilitation.
Soft Tissue Injuries: These injuries include sprains, strains, and contusions, which can cause lingering pain and discomfort.
Internal Injuries: Damage to internal organs, such as the spleen or liver, may not be immediately evident but can be life-threatening if left untreated.
Emotional Trauma: Car accidents can lead to psychological distress, such as post-traumatic stress disorder (PTSD), anxiety, and depression.
Our experienced legal team understands the physical, emotional, and financial toll these injuries can take. We are dedicated to ensuring that you receive proper medical care and comprehensive compensation for your pain and suffering. If your case isn't receiving proper attention during settlement negotiations, we won't hesitate to take legal action, allowing the Court and Jury to determine the outcome rather than settling for less.
Can I File a Car Accident Claim After Insurance Pays?
Once you agree to an insurance settlement, it can be challenging to recover more compensation. If you've signed an agreement, you may still have options. Contact MAS Law right away for guidance.
Holding Insurance Companies Accountable
Insurance companies aim to be profitable and may not have your best interests at heart. MAS Law can help build a strong case to demonstrate the responsible driver's fault and your need for full compensation.
2022 Richardson, Texas, Car Accident Statistics
In 2022, Richardson, TX, experienced a range of traffic incidents that shed light on the road safety situation in the city. The statistics, based on the Texas Department of Transportation's (TxDOT) crash data analysis and statistics, provide a comprehensive overview of the traffic-related incidents that occurred throughout the year.
Total Collisions in Richardson, Texas: Throughout 2022, there were a total of 1,888 reported collisions within the city of Richardson. These collisions encompass a variety of scenarios, from minor fender benders to more serious accidents. Understanding the total number of collisions is essential for evaluating the overall traffic safety in the area.
Injury-Causing Collisions in Richardson, Texas: Of these collisions, 952 were categorized as non-fatal crashes with injuries. These incidents highlight the impact of traffic accidents on individuals and communities. Non-fatal crashes with injuries can result in physical harm, emotional trauma, and financial burdens for those involved.
Fatal Collisions in Richardson, Texas: Tragically, Richardson also experienced 17 fatal collisions in 2022. Fatal crashes are the most severe and devastating outcomes of traffic accidents, resulting in the loss of lives and leaving lasting impacts on families and communities.
Building a Strong Case for Recovery
At MAS Law, we understand the challenges of recovering from a serious injury as a result of a car wreck. Our Richardson car accident lawyers have received nationwide recognition for their commitment to clients and ability to build strong cases.
During your free consultation, we'll assess your case's strengths and weaknesses, gather essential evidence, and demonstrate the responsible party's negligence. Begin your case by calling (972) 460-9339 now to speak with an auto accident lawyer.

Testimonials
What Our Clients Are Saying
"Marissa Deleon treated all my concerns with urgency."

- Kiara M.

"Melissa Soltero has been amazing from the start to finish!"

- Courtney S.

"Jeffrey Shelton and Melissa Viera took care of my case. They are very professional and organized. Melissa Viera promptly responded to all my questions even during some weekends."

- Clarissa R.
Firm News & Events
At MAS Law Firm, we bring a diverse breadth of experience to every case, while maintaining an avid involvement in the Texas community. Click below to learn more about our passionate advocacy for our clients and our community.